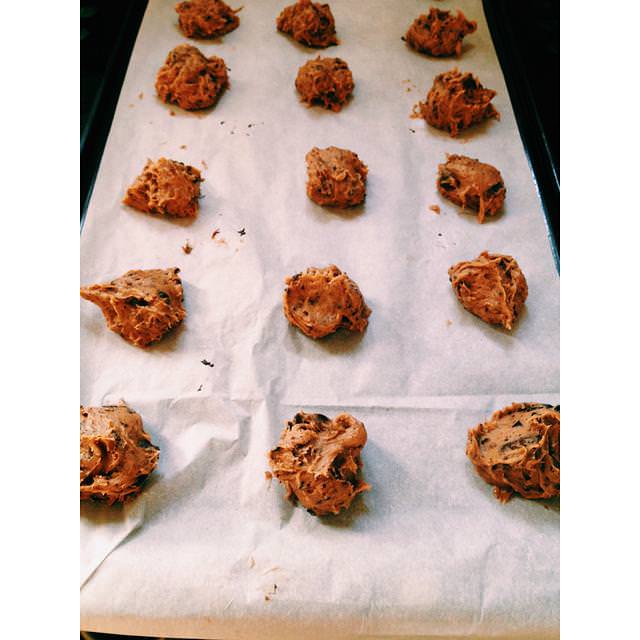 Last weekend, I was with my little sister and we decided to bake cookies….but cookies the all family could eat.
And…mostly this goes for me hahaha!
So cookies with no nasty things, free of gluten, lactose and refined sugar.
This is a version of the recipe, but you can try plenty of alternatives! Feel so happy to have found a good recipe of cookies without butter, eggs, plenty of sugar, and crispy!
This cookies stay good 2 or 3 days in a hermetic box. Kidfriendly 100% approved!
THE RECIPE:
For 12 cookies aprox.
140gr of rice flour (or quinoa / buckwheat)
2 tsp of baking powder (gluten and phosphate free)
50 gr of non refined brown sugar
80 gr of oat flakes (gluten free ones) or quinoa flakes or buckwheat flakes
Pinch of salt
80 gr of good black chocolate (minimum 70% of cacao)
15 gr of confit ginger
4 Tblspoons of olive oil or coconut oil (melted)
100 ml of vegan milk (rice, almond, etc)
Pre-heat the oven at 180ºC.
Mix the flour, with the baking powder, the sugar, the flakes and a pinch of Himalayan salt.
Add the chocolate in pieces and the ginger. Mix and add the olive oil (or coconut oil melted) and the milk.
Form the cookies on the baking sheet.
Bake for about 20 minutes.
Remove from the oven, take off the cookies so they do not stick, then let cool on baking  sheet.
Enjoy and share with the people you love!
Chloé
X.